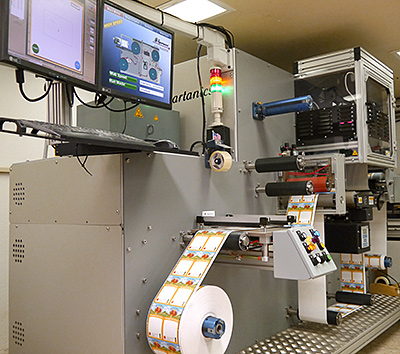 Taking custom label shapes to a new level of creativity
Acro Labels utilizes a state-of-the-art Spartanics laser die cutting system to achieve the impossible in label die cutting. Ideal for clients looking for fast and flexible label shapes; this system uses a vector shape from a computer file to laser cut almost any shape into a label. We are taking the lead by investing in this new technology that fits well into out full digital services.
Key Benefits of Laser Die Cutting
Speed
The laser process removes the need for dies, saving time and money in the process. Custom shapes can now be done in hours vs. days.
Flexibility
Complex shapes are now easier to do, and size changes can happen much quicker (and less expensive) than with traditional dies.
Short run cost effectiveness
Custom shapes are now affordable for short run labels, with faster turn around. Perfect for prototypes and product testing. Less label waste with greater accuracy and shape precision, the laser system can reduce common label waste up to 40%. Saving time, costs, and material.
To fully understand the benefits of our digital services, contact your Acro service representative today.