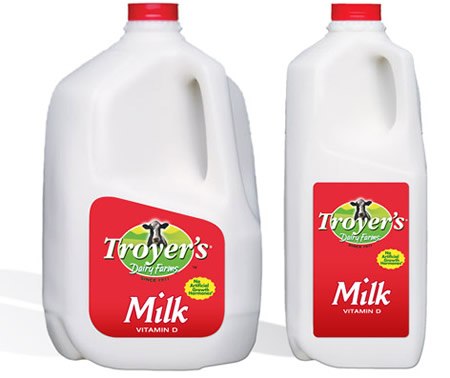 Working with a food and dairy supplier located in Lancaster, PA, Acro Labels has put our printing and labeling expertise to use in creating a series of labels for milk gallon jugs as well as half-gallon jugs. These labels are constructed from dairy grade litho backed with a permanent adhesive and then laminated with clear polypropylene.
This order was filled in a quantity of 500,000 labels with individual requirements for the one gallon and the half-gallon varieties. The one gallon labels use a special shape die to custom fit their jug containers, in a size of 3.125″ x 3.24″. The half-gallon labels were die cut using a standard rectangle die shape to a size of 3.875″ x 2.5″. Acro Labels designed and manufactured these milk labels to perfectly conform to each jug size.
Our client has expressed how well these labels perform during auto-application as well as their ability to hold up in the plant environment, during shipping, and lastly in the supermarket and consumers refrigerators.
Product Description: Milk Gallon and Half Gallon Jug Labels
Overall Label Dimensions: One Gallon: 3.125″ x 3.24″ special shape die cut
Overall Label Dimensions: Half Gallon: 3.875″ x 2.5″ special shape die cut
Adhesive: Permanent
Label Material Used: Dairy Litho laminated with clear polypropylene
Colors: 6 PMS colors
Industry for Use: Food, Dairy
Quantity Manufactured: 600,000
Delivery Location: Lancaster, PA